Ladies and Gentlemen,
On behalf of Koronowo Commune citizens and local authorities I wish to welcome and truly encourage You to acquaint yourself with our small homeland. This presentation was prepared to bring out values and attractions of Koronowo and its vicinity as well as its history and traditions closer to You. I truly hope that, You will gladly accept our invitation and visit us very soon.
Mayor of Koronowo Commune
Koronowo Commune location
Koronowo Commune is situated in the center – north part of Poland, within Kujawsko–Pomorskie Province and Bydgoszcz District. The total area of the commune is 41170 acres and population of over 23 thousand residents. In terms of area, it is the biggest commune in the district and also one of the biggest in the province. It is both town and rural commune, with town of Koronowo (11 thousand of citizens) as local administration center, which is located about 25 kilometers from Bydgoszcz, on the south outskirts of Tuchola Forest. It lies by the important state roads; State Road 25 and State Road 56. Koronowo Commune comprises of 33 Soltysships: Buszkowo, Byszewo, Bytkowice, Dziedzinek, Glinki, Gogolin, Gogolinek, Gościeradz, Huta, Krąpiewo, Lucim, Łąsko Wielkie, Mąkowarsko, Morzewiec, Nowy Dwór, Nowy Jasiniec, Okole, Osiek, Popielewo, Salno, Samociążek, Sitowiec, Skarbiewo, Stary Dwór, Stary Jasiniec, Tryszczyn, Więzowno, Wierzchucin Królewski, Wiskitno, Wilcze, Witoldowo and Wtelno.
The biggest and the best known tourist value of Koronowo Commune is Koronowo Reservoir. This water area and its surroundings is a magnet for leisure lovers, who look for active ways of spending their free time, as well as for those who prise peace and tranquility in surrounding nature. The beauty and importance of the reservoir comes from unique nature and landscape values as well as from tourist facilities. Tight woods full of wild animals, mushrooms and wild fruit stretch along the coastline, which is almost 102 kilometers long. A number of tourist routs are ideal for those who, wish to hike or cycle around and experience possibility for up close and personal contact with nature. As for reservoir itself it is the strongest sailing center in the whole Kujawsko – Pomorskie Province. There are many small marinas and harbours situated around the lake, and in the high season more than a few dozens of yachts are sailing around the Koronowo Reservoir. In spite of such a high number of sailing boats, there are still many silent and isolated places and wild bays, where sailors can cast an anchor and spend some time without being disturbed by anyone. The summer season is filled with boat races and cultural events. But Koronowo Reservoir is not only a sailing point, it is also a part of Brda River Rout, which is considered one of the most attractive kayaking routs in Poland. Brda rolls its waters through picturesque landscapes, waterfalls, stone bridges and water power plants. Moments spent on paddling a boat along the river will be remembered for many years coming.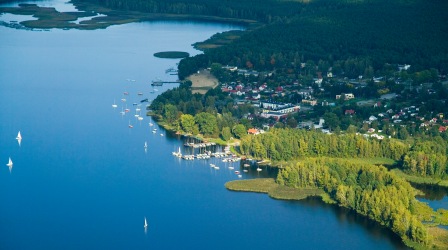 Koronowo Reservoir - bird's eye view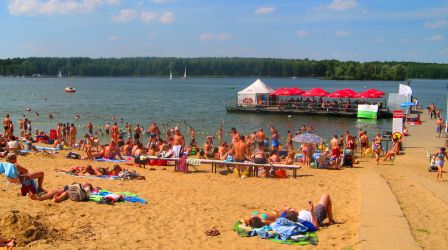 Koronowo Reservoir – Pieczyska Beach
Inbetween of different sport activities on the reservoir the visitors have an unusual opportunity to pay a visit in our town. Koronowo and its vicinity is filled with monuments and places marked with historical events. The most monumental and important objects for Koronowo Commune citizens are St. Mary's Church, St. Andrew's Church, The Holy Trinity Sanctuary in Byszewo, ruins of Teutonic Knights Order castle in Nowy Jasiniec, Jewish cementary in Koronowo, manor – house of the famous Polish painter and graphic artist Leon Wyczółkowski in Gościeradz, water – mill dated to mid 19th century in so called Davil's Mill in Koronowo, synagogue in Koronowo or the highest in Europe (over the water level) a narrow gage railway bridge stretched over at 18 meters high above River Brda between Koronowo and Okole village. It was used up until 1992, but at present it is a crossing point for the pedestrians and a place, which offers captivating view of the whole vicinity. Incredibly unique tourist value is a medieval city plan in the old part of the town, with its narrow streets, which has been maintained with minor changes till the present days.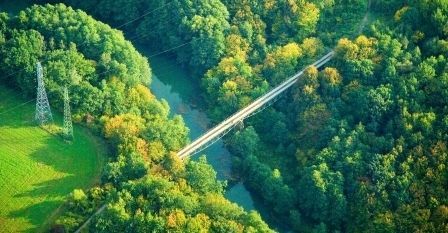 Koronowo – the highest in Europe narrow gage railway bridge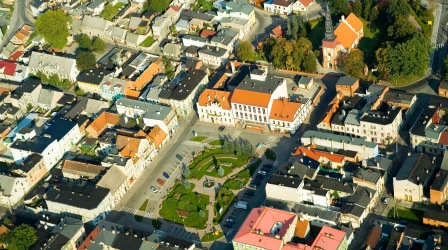 Koronowo Market Place - bird's eye view
From the west Koronowo is surrounded by an unusual "Grabina" Park. It is 23.7 acres big, the remaining of the tight forest areas existing in Brda Valley in the past. The name of the park derives from precious hornbeam trees growing on the hill slopes. The highest hills in this mountain like area are: Grabina - 109 meters above the sea level, Lokietek's Hill - 107,5 meters above the sea level, St. John's Hill - 106 meters above the sea level and Szance - 94 meters above the sea level. An ancient town dated to 7th or 8th century had been located on Lokietek's Hill, which was inhabited for the second time at the beginning of medieval ages.
Koronowo Commune lies on the international cycling rout called Euroroute R-1. The rout starts in Calais, France and goes via Belgium, Holland, Germany and Poland right up to the Russian border. In our region the rout runs through villages of Wierzchucin Królewski - Salno - Wtelno - Janowo to the city of Bydgoszcz and further to Bozenkowo - Samociazek - Koronowo - Nowy Jasiniec - Serock and Swiekatowo. Nature lovers can admire breathtaking view of linked lakes of Byszewo while cycling along the rout.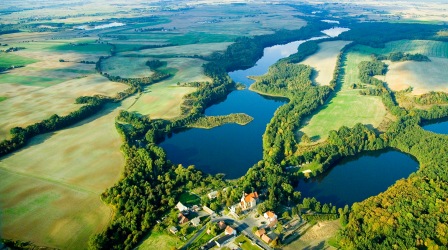 The Holy Trinity Sanctuary in Byszewo, situated within Valley Chain of Byszewo Lakes
Koronowo is strongly bound up with Cystercian Order from the very beginnig of their presence in this area. In year 1288 the town of Koronowo was bought by the order from the archbishop of Wloclawek. It was named Smeysche and after some time the order built a monastry and moved their abode here. The town's favorable position by communication and transport routs of Brda river and trade trails from Kujawy and Wielkopolska regions to Gdansk and West Pomerania allowed Koronowo to develope and become an important center in this area. Undoubtely Cystercian Order had the strongest impact on both economic and cultural development of Koronowo. By their strong efforts, Koronowo was granted city rights and many charters. Location Act was granted to Koronowo by the king Kazimierz the Great in Kruszwica on 18th December 1368. At first the town was named Byszewo, exactly the same as the first adobe of Cystercian convent. To distinguish it from Byszewo, first people started to name it New Byszewo and then Koronowo around the 15th century. The name Koronowo came from Koronowo's monastery, which was called Corona Marie due to solicitude of Virgine Mary worship. Koronowo location was granted according to German Laws, which gave the town distinctive, regular, chess - board type of building. The center of the town is rectangular market place 90 meters on 70 meters big. From each of the corners of the market place two parallel streets, from right angle come out, and then they separate out into eight rectangular blocks of building which is the typical medieval town lay out. This lay out has been preserved until the present days. On 11th November 1370 the new privilege was granted to the town by Abbot John, which in further details helped to crate so called the new town.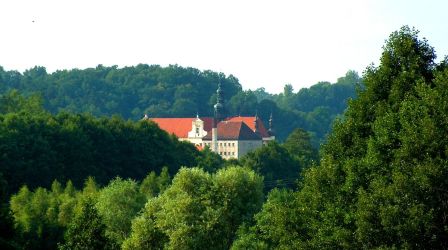 St Mary's the Virgin Church with Grabina Park in the background
Development of Koronowo was closely connected with the Cistercian order in the past, but also at present days Koronowo takes up numerous actions aimed at cystercian traditions preservation. It lies on the Cystercian Rout in Poland, it is also a member of Pomeranian Cystercian Rout and National Cystercian Communes Society. The main aim of the society is cooperation with the local authorities and working together to protect and preserve the cystercian heritage.
Every visitor and tourist can find something for himself, like many interesting events: Back - yard Bands Festival, Opera Arias Festival by the Koronowo Reservoir waters, "Summer, Pieczyska, Song", sailing races, "Bulrush Sailors Songs Festival", Summer Family Picnic. But with no doubt, the biggest attraction is the Cystercian Festive, which takes place every year in July. On the first weekend of July participants and the guests have a unique opportunity to travel back to medieval times, discover old traditions, handcrafts, and admire Koronowo battle inscenisation.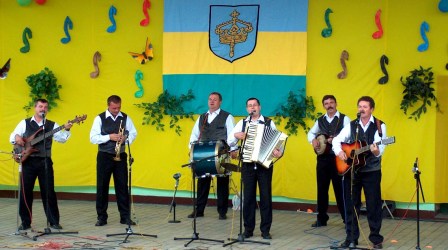 Festival of Back Yard Bands taking place every year in August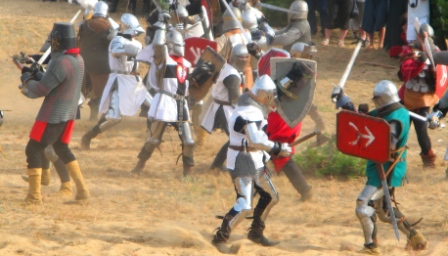 Cystercian Festival with Koronowo Battle inscenisation,
which takes place at the first weekend of July every year
In Koronowo Commune exists over 100 years tradition of sport and physical education cultivation. Nowadays there are also over 20 different sports and tourism organizations, where everyone can practice any kind of sport, like: football, handball, basketball, volleyball, tennis, table tennis, wrestling, weight lifting, sailing, shooting, motor sports, fishing and horse riding. Well qualified trainers and instructors lead activities in: Towns Football Club Victoria Koronowo, Local Sports Club The Crown in Koronowo, Local Sports Club Orlik in Gogolinek, Students Sports Clubs Walter, The One and Leonek, Towns Sports Club Spartan, Local Tourist Club Wyczol in Gościeradz, Local Sports Team Lokietek in Wierzchucin Królewski, Sailing Club The Wind, Physical Education Society Sokol, Tourist Trekking Club Tramp, Polish Fishing Union, Horse Riding Club "Deresz".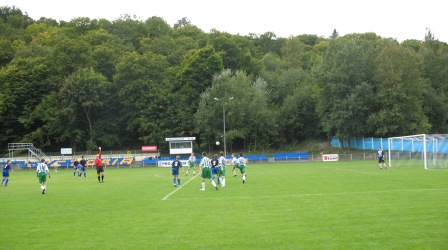 Football stadium in Koronowo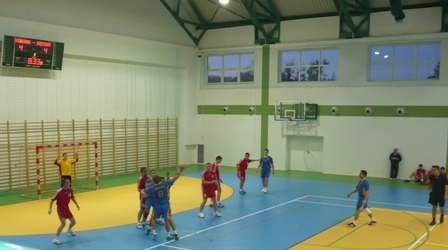 Handball match in newly build sports centre in Koronowo
Tourist Information Office is located in the old part of the town on Victory Square 22/2. It is a good starting point for everyone who wants to sightsee Koronowo and its vicinity. All kind of information about Koronowo, postcards, books, guidebooks are available in the office. There is also a professional tourist guide, whom the visitors can hire and find out about Koronowo land as much as possible.
Except from the tourism, in Koronowo Commune the main development branch is cattle and swine breeding, apples, cherries and plums orchards, strawberries plantations and farm and food processing. In recent years small and medium size manufacturing and service became very important sectors in the commune economy. Koronowo is a very interesting place for all kinds of investment. It is located near the capital of the province - Bydgoszcz (which has international airport), lays on the main communication routs, possesses human and capital resources and necessary infrastructure. Local authorities welcome new investors, support the development of manufacturing sectors creating investment, work and life and leisure friendly atmosphere. Local authorities are highly interested in cooperation and opened for the new initiatives and enterprises.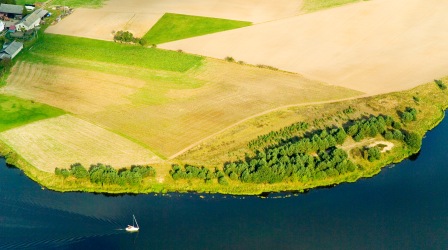 Koronowo Commune is not only an attractive tourist region
but it is also well devloped farming area
For many years now Koronowo has been involved in Town Twinning cooperation with other European towns and communes like with Spinetoli in Italy, Senden in Germany and Czarny Bór (Black Forest) in Lithuania. This cooperation works on the agreements and conventions signed with the twinning towns.
We wish to warmly invite You to visit Koronowo, spotted with charming, picturesque and simply interesting places, where people are open-hearted and always ready to welcome every guest coming in.
Contact:
Urząd Miejski w Koronowie (Stadtamt in Koronowo)
Plac Zwycięstwa 1
86-010 Koronowo
Tel.: +48 (52) 3826-410
Fax: +48 (52) 3826-401
E-mail: Ten adres pocztowy jest chroniony przed spamowaniem. Aby go zobaczyć, konieczne jest włączenie w przeglądarce obsługi JavaScript.
Punkt Informacji Turystycznej (Tourist-Information)
Plac Zwycięstwa 22/2
86-010 Koronowo
Tel.: +48 (52) 3824-653
E-mail: Ten adres pocztowy jest chroniony przed spamowaniem. Aby go zobaczyć, konieczne jest włączenie w przeglądarce obsługi JavaScript.